In July 2013, we ran a competition with Vetsonline, offering the winner one of our popular single column storage trolleys. Mrs AnnMarie Ritchie, RVN, Head Nurse at Boyce & Houston Vets was the lucky winner. She proudly shows off her prize.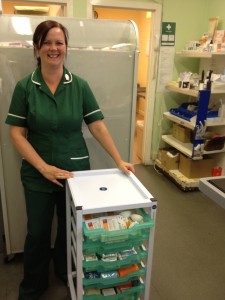 We contacted her to find out what she planned to do with the trolley and this is what she had to say…
"I am the lucky winner of the Gratnells trolley competiion! I received the trolley in early August and we have decided to use it for our bandage materials. It is so convenient to now to be able to wheel our bandages into the consult rooms or operating area."
We'll be keeping in touch with AnneMarie to discover how the trolley is becoming an invaluable part of her working day. We are also keen to find out any Storage Best Practice tips she may have to share.
Mrs AnneMarie Ritchie, RVN is Head Nurse at Boyce & Houston Vets, based in Dunbartonshire. The practice is an established, thriving surgery that has been serving the small animal pet community of Clydebank since 1990.